We have made necessary enhancements in our software POWERAge to submit the batch online.
The Update can be downloaded from the link given below:-
Service Packs for Online Submission facility:
Archive:
About Us
MilestoneInfoSoft Presents POWERAge - Software for Small Saving Agents. Trust of more than 3000 Small Saving Agents all over India. 100% money back guarantee. Dealer Enquiry solicited.
Interest Rate Chart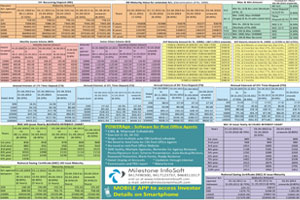 Bank Account Details
Name Of Bank: BANK OF INDIA
A/C No.: 650510110005380
IFSC Code: BKID0006505
In Favour Of: ABHINANDAN BANSAL
Name Of Bank: PUNJAB NATIONAL BANK
A/C No.: 0419000100449394
IFSC Code: PUNB0041900
In Favour Of: ABHINANDAN BANSAL